After investment markets' dismal performance last year and a 2023 that, to date, has featured rising interest rates and elevated inflation, stock and bond markets (up 13.93% and 2.09%, respectively, year to date) have surprised many investors.  In fact, as late as mid-May, published statistics indicate only 21% of investors were bullish. What gives? 
Inflation, as measured by the June 2023, consumer price index (CPI), rose 3% from a year ago, a far cry from the inflation spike in June 2022 of 9.1%. Concurrently, reports indicate the labor market improved as more workers entered the workforce, food and energy prices declined, and housing costs eased. In our opinion, these are all promising signs that inflation overall may be on a path to normalization. 
The Federal Reserve seems resolved to break inflation using its favorite tool, interest rates. The rise in the Fed Funds rate from 0% to 5.25% since March of 2022 has been historic in both magnitude and speed. At its most recent meeting, the Fed left interest rates unchanged, but indicated that it would expect to raise rates another two times this year.  Could the Fed be hedging the possibility the inflation pendulum may swing back to higher levels later in the year, or exploring another tool to cool the economy? Is it a bluff? 
Many American consumers and businesses are already feeling the impact of higher rates. Home ownership is significantly more expensive with 30-year mortgages in the 6.5 – 7% range compared to below 3% in 2020.  Used car loans are reportedly costing non-prime borrowers 13.89%, while borrowers with weaker credit are facing even higher rates.  Typically, these dynamics crowd out other consumption and investment, which slows the economy down. It also typically reduces the margin of error many companies have in navigating their business plans, leaving more of them in a tough spot.
Weekly bankruptcy filings for companies with more than $50M in liabilities are at levels seen only in 2020 and 2008. Higher rates are like using leeches to cure an ailment, the longer they are attached, the weaker the patient gets. The Fed may have to walk back its guidance for further interest rate hikes in the near term, but that is much easier than surprising with unanticipated hikes. 
Despite this concerning news, the stock market continues its upward trajectory.  A few stocks are responsible for the lion's share of this year's positive stock performance. The top 10 stocks in the S&P 500 as of June 30th represented nearly 1/3rd of overall market capitalization, driven by technology themes such as Artificial Intelligence (AI) and a rebound from last year's precipitous drop in the tech sector. Despite the narrow support for market performance this year, investor sentiment reportedly soared to 41% in recent days. 
BSW's rebalancing process enabled us to ADD to most clients' stock exposure in October 2022 when investor confidence reached its nadir. For most clients, we then trimmed and took some profits in May 2023 as investor confidence (perhaps over-confidence) returned, often capturing most of the 24% move up in stocks.  We believe BSW's disciplined rebalancing process, along with interim rebalances triggered by extraordinary market movements up or down, allows us to programmatically be brave when others are fearful.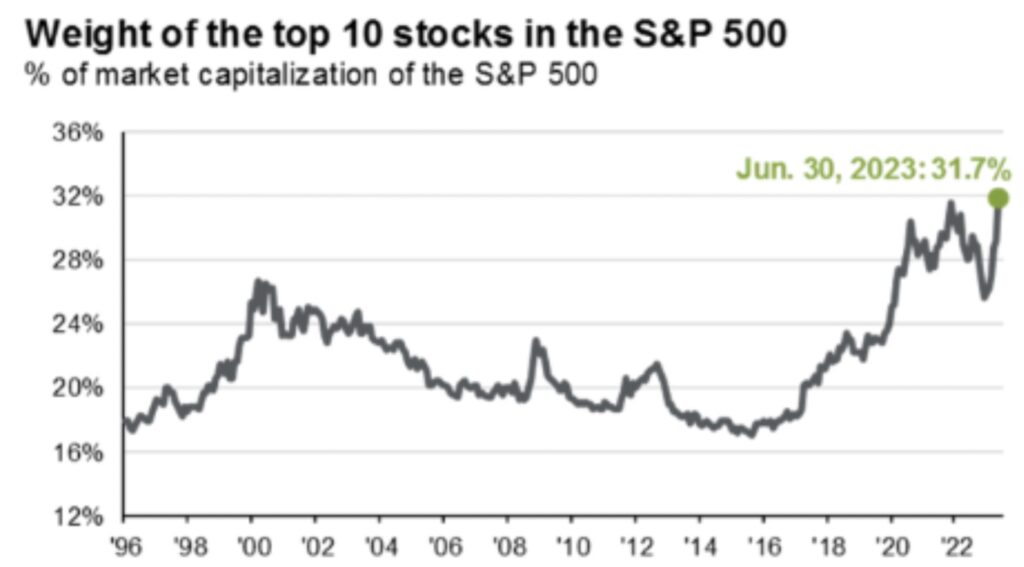 Whether a recession or stock market correction are on the horizon, we believe clients are well served by revisiting their allocation during these times of relative calm.  In our opinion, quickly checking-in on their plan is much better done today than in the fog of the storm. It is our hope that clarity and reassurance, paired with disciplined and systematic rebalancing will support our clients' long-term journey, even with the inevitable few speed bumps along the way.  
In the meantime, please enjoy the rest of the summer! 
---
This blog is created and authored by BSW Wealth Partners, Inc., a Public Benefit Corporation ("BSW") and is published and provided for informational purposes only.  The opinions expressed in the blog are our opinions and should not be regarded as a description of services provided by BSW or considered investment, legal or accounting advice.  Certain information sited is from third-party sources and while we believe the information to be accurate and true to the best of our knowledge, we cannot guarantee its accuracy as there may be certain unknown omissions, errors or mistakes.  Use of third-party information, including links, is in no way an endorsement by BSW.  The views reflected in the blog are subject to change at any time without notice.
Nothing on this blog constitutes investment advice, performance data or any recommendation that any security, portfolio of securities, investment product or investment strategy is suitable for any specific person.  Please remember that past performance may not be indicative of future results.  Different types of investments involve varying degrees of risk, and there can be no assurance that the future performance of any specific investment, investment strategy, or product (including the investments and/or investment strategies recommended or undertaken by BSW), or any non-investment related content, made reference to directly or indirectly in this blog post will be profitable, equal any corresponding indicated historical performance level(s), be suitable for your portfolio or individual situation, or prove successful.  Not all BSW clients will have the same experience within their portfolio(s) and certain topics discussed in this blog may not apply to all clients or investors.  Due to various factors, including changing market conditions and/or applicable laws, the content may no longer be reflective of current opinions or positions.  Moreover, you should not assume that any discussion or information contained in this blog serves as the receipt of, or as a substitute for, personalized investment advice from BSW.  To the extent that a reader has any questions regarding the applicability of any specific issue discussed above to his/her individual situation, he/she is encouraged to consult with the professional advisor of his/her choosing.  BSW is neither a law firm nor a certified public accounting firm and no portion of the blog content should be construed as legal or accounting advice.  A copy of BSW's current written disclosure statement discussing our advisory services and fees is available upon request.