BSW Wealth Partners celebrates one year as a Certified B Corp!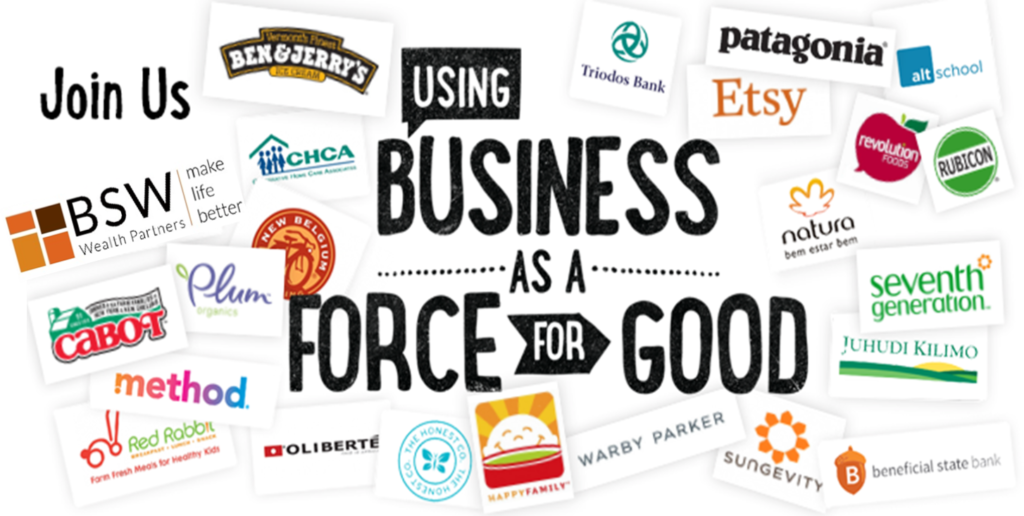 In 1970, American economist Milton Freidman quipped, "The social responsibility of business is to increase its profits." The perception of profits or sustainability, but not both, has been perpetuated for decades. Thankfully, that foolish wisdom has reversed; a new shift in mindset has consumers expecting transparency, honestly, and a tangible impact from companies. We couldn't agree more.
Since joining the B Corp ranks in January 2017, BSW has taken baby steps by looking inward at how to improve our internal operations and minimize our environmental impact. Here are a few of the intentional shifts BSW made throughout 2017:
Workers – BSW established a paid volunteer day for employees.
Waste – BSW implemented company-wide composting. We now divert 20% of food waste from landfills.
Energy – BSW upgraded incandescent bulbs to LEDs throughout the office. We are tracking to use 40% less energy this year.
Water– BSW upgraded aerators in our handwashing sinks from 2.2 gpm (gallons per minute) to 0.5 gpm and our two kitchen sinks from 2.2 to 1.5 gpm. This saved 7,280 gallons over the course of 2017.
BSW's core purpose is to Make Life Better for clients, our team, and their families. In becoming a certified B Corp, our definition of "Better" is expanding and evolving at an accelerated pace. At present, our operations team is carefully constructing the architecture of BSW's sustainability initiatives to be implemented in 2018; we are on a crusade to avoid a B Corp "sophomore slump" and, by definition, becoming "wise fools" ourselves!